A sneak peek into a life that's mine!

There is nobody who knows about tomorrow.

Life is in living with full spirit,

Life is what you make it."
She stared at the paper in her hand. She read and reread those lines. They did have a lot of truth in them. And those lines lifted her spirit. But those lines were special to her. She never imagined that the lines that she had penned would offer her so much solace. Everybody had a story to tell. But she was different. She had told many stories to the world. Those were the stories that she had thought of and had brought them to life with her beautiful words. But now she was on a mission. A mission to write a story- but a different story this time. It was going to be her story- the life that she had lived all these years.
This definitely wasn't a fairy tale and she does not know how her tale is going to end. This is a story of her ups and downs on the see-saw of life. A story of dreams- some of them broken and some of them turned to reality. This is a story of how she turned her dreams to reality. She is not perfect- she has her own set of flaws. But no matter what everybody's life is different and the story of one's life is indeed special. This is the story of her life- the story of my life. This is Sugar and Spice- My journey of being stupid and wise.
Yeah the above lines were as if a know it all wise soul was speaking. But this not a story of wisdom. It is about me. So serious business aside. This is a story of my 28 teeth wide grin when I am happy and also the cough syrup container full of tears ( I don't cry much you see) when I am sad. This is a story of the clever girl who is good at studies but also of the stupid girl who makes silly mistakes that sometimes are not so silly. This is a story of the nice girl and also the story of the angry, grumpy girl.
So I proudly and gladly accept both my talents and my flaws. This is my story and I am writing it with the sole motive of telling my story. You wanna read it as any other biography that you read for inspiration? Go ahead and read it. (I will be glad as that would put me in the league of great people). But whatever is your motive behind reading my story, I hope you enjoy it. Laugh at my silliness, share my joys, but I wouldn't want you to cry with me. Life is living with full spirit and life is what you make it! And yeah I am sure this will just be volume one- this is the story of my life and I am just twenty one! 😛
This post is a part of Write Over the Weekend, an initiative for Indian Bloggers by BlogAdda.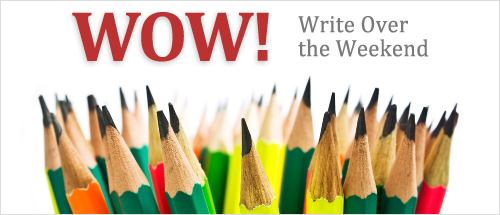 Write Over the Weekend inspiration for this time
Your life is going to be made into a novel! Write an introduction
for this novel. How will you creatively reflect on your life spent?
And for those four lines of poetry you read there, you can find the full poem
here.
Have a nice weekend 🙂